Academy of Marketing Science
The Academy of Marketing Science Foundation is an international, scholarly, professional organization. It is dedicated to promoting high standards and excellence in the creation and dissemination of marketing knowledge and the furtherance of marketing practice through a role of leadership within the discipline of marketing around the world. The Academy is committed to the highest of ethical standards in the pursuit of this mission.
Association Francaise du Marketing (French Marketing Association)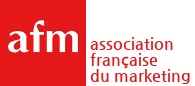 The Association Francaise du Marketing (AFM) is a key strategic partner of the Academy of Marketing Sciences (AMS). The AMS-AFM partnership is looking for avenues to expand our relationship.  The most recent development is a Call for Collaborative Research Proposals.  AFM, AMS, and the Berkman Charitable Foundations are teaming up to provide funding assistance for projects consisting of teams of AFM and AMS members.
Learn more about the AFM-AMS partnership